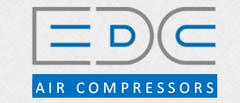 XA FIXED SPEED OIL FREE SCROLLS
---
The SCR XA Class 0 oil free scroll compressors provide:
100% oil free air delivery
Are belt driven
Feature an IE3 motor

Are fully programmable via a colour touchscreen controller
Uses stainless steel pipework to eliminate the possibility of contamination
See the new SCR XA oil free scrolls brochure.
These XE machines are oil free class 0 compressors. They are scroll machines, so different to a screw compressor. They have multiple air ends and motors which is typical for a scroll machine - for example, the 7.5kW has 2 air ends and motors, the 22kw has 6 - which can be cascaded depending on demand. Typical uses are pharmaceutical, food and beverage and the printing industry.  
The airend is manufactured in Japan by Anest Iwata. They invented the scroll airend. This airend is used in machines made by Atlas Copco, Boge, FPS, Renner. It is a world class airend!
But that's not all. Low noise, high pressure centrifugal fans provide excellent air flow, whilst the oversized cooler has spare capacity of between 20-30%, making the air outlet temperature only +10-15 degrees above the ambient temp. This aids in reducing the burden on downstream equipment.
These scroll (as opposed to screw) compressors, go down to as low as 4kw, making the perfect compressor where applications are small and oil cannot be permitted at point of use. If your requirement is for a larger kW oil free machine, please see the SCR 'G' series - starting at 75kW.
Proving that oil's well that starts (and ends) with an SCR XA series oil free compressor.
Find more info at SCR XA oil free scrolls brochure.
---